AHOY SYSTEMS is a manufacturer for UV Sanitization products. We use UVC 253nm wavelength lamps that are chemical free, easy and safe to use in homes and offices. Our products come with a smart timer that can detect the type of products being sanitized and adjust the timing automatically.
What is a UV sanitization box ?
UV sanization system allows users to put items inside a box and sanitize them from many bacteria and viruses within a few seconds without the use of any chemicals.
UV sanitization system uses Ultra Violet C-Type light to disinfect items, quickly and safely.
What can be sanitized using the UV Sanitization box ?
UVC is just a light that can kill pathogens on contact, it is already used globally for sterlizing pathogens in water purifications systems, meat processing industries and other food processing industries.
Courier boxes
Laptops, mobile phones, keys
Fruits & Vegetables
Pizza box cover
Pizza without cover
Water glasses and bottles
top
UV sanitization box - Eco & Silver
Robust/spacious design
Long lasting metal body
Auto-timer
Manual timer override
Auto-shutoff safety sensor
Models available with 2 and 3 lamps options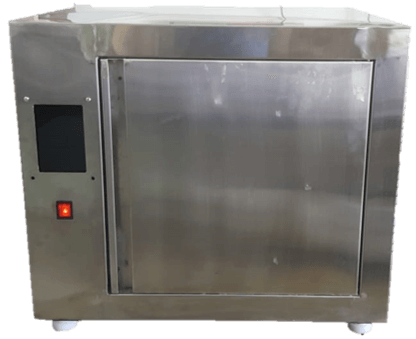 UV sanitization box - Crown & Pro
Designed for high traffic use
Rapid sanitization
Stainless steel body
Auto-timer
Manual timer override
Auto-shutoff safety sensor
Models available with 3 and 5 lamps options
top
UV Product specifications
UV112-Eco-1
UV113-Silver
UV115-Crown
UV115-Pro
Photo
Advantage

Compact size, low cost sterilization
Ideal for shops and offices
Maximum sterilization speed
Bigger size advantage
Size
(width x height x depth)
20" x 18" x 16"
20" x 18" x 16"
20" x 18" x 16"
24" x 20" x 20"
Capacity

50L
50L
50L
150L
Sanitization time

4 - 5 minutes
3 - 5 minutes
45 secs - 2 minutes
1 - 3 minutes
Lamps

2 x 11Watts
3 x 11Watts
5 x 11Watts
5 x 11Watts
Build material

Rust-free powder coated metal
Stainless steel
Stainless steel
Stainless steel
Safety sensor
Automatically shutsoff lamps, if door is operated in between operation.
Yes
Yes
Yes
Yes
Lamp failure detection
Detects and reports lamp failure.
Yes
Yes
Yes
Yes
top
How does UVC disinfection work ?
UV-C is just a light, but not visible. UVC is a type of radiation that is emitted by the sun, but none of it reaches the earth surface because it gets completely absorbed by the ozone layer in the atmosphere. Due to this reason, no living organisms(including humans) have developed any resistance to UVC radiation.UVC is a dangerous radiation and exposure to UVC kills bacteria, viruses, fungi, algae and similar pathogens. Excessive exposure to eyes can cause cataract and blindness, similarly exposure to skin can cause burning sensation and prolonged exposure can cause cancer.
top
Is it safe to use UV disinfection products ?
Ahoy's UVC products have several safety systems built-in to protect its user including auto-shutoff as well as magnetic locks to prevent accidental exposure to radiation.
top
FAQ on UV sanitization
Can UV sanitization be used for de-oderizing clothes ?
Yes! Sportswear, shoes etc can become smelly sometimes, even after washing with detergents. Just put the items in the box for 30 seconds(1 item at a time) and UV box should kill the smelly bacteria in a matter of seconds.
Will regular sanitization of laptops/mobile damage my equipment ?
No. UV light does NOT cause any damage to electronics/equipment.
Is UV light safe for humans ?
No. UV light, especially UV C type light is unsafe for when humans or any living beings are directly exposed to it. The UV box from Ahoy has safety sensors built in to cut-off UV lamps the moment the door it opened. The metallic enclosure of the box and the safety bends in the box around the door ensure that no UV light escapes the enclosure during operation.
Why is the UV sanitization time different every time I put items into the box ?
UV Sanitization box is a smart device and has sensors inside to calculate the UV exposure at various positions inside the box. This system captures the intensity of UV and based on the type and number of items that are placed inside. The system then automatically adjusts the timer to ensure sanitization of items from all angels even if they are under the shadow of another object.
What type of UVC is used in the UV Sanitization system ?
Our systems use 253-255 nano meter wavelenth UV lamps for Sanitization. Some other devices in the market clamining to be UV sanitization systems use 300+ nano meter UV lamps that are not germicidal and cannot sanitize pathogens. For an effective sterlization of pathogens, the UV wavelength should be between 220 to 280 nano meters.
Do I need to wear UV protection glasses when the box is being operated ?
No.
top